Town Council
This page is dedicated to everything you need to know about town council.
Keeping the town updated
The Town of Smooth Rock Falls council includes the Mayor and Councillors. These special people are responsible for the governing of the community and making decisions that help drive the Town of Smooth Rock Falls forward. 
To learn more about each council member and committees, simply use the anchor buttons or scroll down to view each section.
Meetings & more
Aiming to get our community engaged with what is going on at Town Hall, we are pleased to introduce our CivicWeb Portal. The portal increases transparency by enabling our citizens to learn about meetings, search for documents, view reports, and more!
Town Hall
142 First Avenue, PO Box 249
Smooth Rock Falls, ON P0L 2B0
Tel: 705-338-2717
CivicWeb Portal
Access Town of Smooth Rock Falls meetings, documents, reports, and more.
Committees & Boards
Council operates on a Committee System structured as a whole. The committees review issues in a less formal meeting structure. After discussions, the committees then make recommendations to the Municipal Council in its formal embodiment, where the final vote is decided.
Elections
Elections for municipal government are held every four years on the fourth Monday of October. The 2022 municipal election was held on October 24, 2022. The four-year term of office for the current council and school board trustees begins November 15, 2022, and ends November 14, 2026.
For more information please contact the administration office at town hall.
Town Hall
142 First Avenue, PO Box 249
Smooth Rock Falls, ON P0L 2B0
Tel: 705-338-2717 ext. 5
Fax: 705-338-2584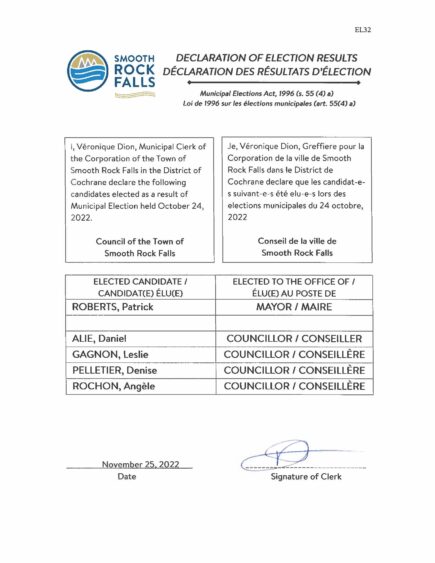 Candidates Financial Statements
As per section 88 (9.1) of the Municipal Elections Act;
The clerk shall make the documents filed under sections 88.25, 88.29, and 88.32 available at no charge for viewing by the public on a website or in another electronic format as soon as possible after the documents are filed.